Abalos to Pacquiao: You're on your own in the political ring
GMA NewsTV | 03/12/2007 | 08:48 AM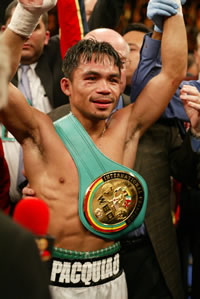 You're on your own.
This was the follow-up "advice" Monday of Commission on Elections (Comelec) chairman Benjamin Abalos Sr to Filipino boxing champ Emmanuel "Manny" Pacquiao who ignored his advice not to enter politics.
Abalos, who said he gave the advice to Pacquiao as a "father figure," said he can not do anything about it if Pacquiao decides to run for congressman this May.
"Karapatan niya. Kaya lang bilang parang ama niya kung siya nagpa-practice sa Mandaluyong yan ang aking pangaral. Ang isang magulang hanggang sa pangaral na lang, kung di ka susundin bahala ka sa buhay mo (It's his right to enter politics. I merely advised him as a father because he was like a son to me when he started his boxing career in Mandaluyong City. A parent can only do so much. If a son decides to junk that advice, he's on his own)," Abalos said in an interview on dzXL radio.
Pacquiao earlier announced that he wants to run for the first congressional district of South Cotabato despite calls for him to abandon the plan.
On Sunday, he appeared decided when he was quoted saying that now was the right time to run.
Pacquiao is training for a coming fight and Abalos said Monday that Pacquiao can file his certificate of candidacy through his lawyer.
The deadline for the filing of certificates of candidacy for local positions is March 29.
"Hindi naman kailangan ikaw ang personal mag-file, pwede mag-authorize ka bigyan authority mag-file nito (You don't need to file it personally. You can authorize someone else to do it for you)," Abalos said. - GMANews.TV
9/11 mastermind admits
killing reporter
By KATHERINE SHRADER, Associated Press Writer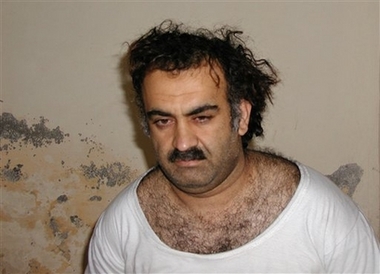 WASHINGTON - Suspected 9/11 mastermind Khalid Sheikh Mohammed confessed to the beheading of American journalist Daniel Pearl and a central role in 30 other attacks and plots in the U.S. and worldwide that killed thousands of victims, said a revised transcript released Thursday by the U.S. military. "I decapitated with my blessed right hand the head of the American Jew, Daniel Pearl, in the city of Karachi, Pakistan," Mohammed is quoted as saying in a transcript of a military hearing at Guantanamo Bay, Cuba, released by the Pentagon.
source:
http://news.yahoo.com/s/ap/20070315/ap_on_go_ca_st_pe/
us_terrorist_confession_42;_ylt=Am2shPkQgdZE16_YU8gT.mYTv5UB